Funguschain final conference held on 14th of April 2021. in Zaragoza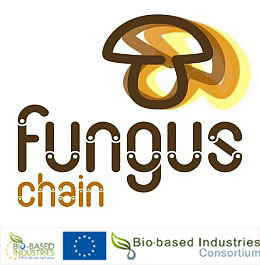 A consortium of European research centres develops plastic bags, soap and food from mushroom waste
The European project FUNGUSCHAIN has manufactured new products such as biodegradable bags, essential oils or vitamin enriched food for the elderly from fungus residues.
This initiative has been financed by the European Commission and brings together 15 European partners who make possible circular bioeconomy and introduce a new concept about biorefinery that will entail a breakthrough in the current industry.
Zaragoza, April 14th 2021. - Have you ever learned that about 25% of every kilogram of mushroom is discarded as waste? For instance, the stem is the part of the mushroom that is usually not sold. However, it has molecules with very high protein value that can be used to create new plastic, cosmetic and food bio-products. Thus, the European project FUNGUSCHAIN has successfully developed compostable shopping or garbage bags, films for crops, soaps, essential oils and multiproteic foods for the elderly from mushroom waste.
The FUNGUSCHAIN Research Project has been funded by the European Commission and brings together 16 partners from ten European countries. They have worked on these super properties of mushrooms for four years and a half and the project has just finished successfully achieving its goals. Not only has the project developed new products, but it has also enabled an innovative circular economy approach that will entail a breakthrough in the current industrial system.
New biorefinery: extracting high-value biomolecules from mushroom waste
Every year, tons of mushroom waste generated in Europe can be valorised and industrially used. To this end, the Irish project partner and one of the world's largest mushroom producers, Monaghan Mushrooms, has established a mushroom waste treatment centre to carry out the stabilization, pretreatment and cascade extraction procedures that have been investigated at FUNGUSCHAIN.
The FUNGUSCHAIN Project has focused on establishing a new biorefinery concept in order to extract molecules in four steps: cold extraction, microwave-assisted extraction, pressurized how water extraction and anaerobic digestion. Each of these phases can be parallel to the rest and implies a different extraction methodology to obtain different products.
Applicability in several industries: food, plastic and cosmetics
The FUNGUSCHAIN Project has scientifically proved the wide range of possibilities and benefits that mushroom residue molecules can offer at a social, economic, and industrial scale. By using raw material, the circular economy model includes the entire value chain of the sectors involved: food, cosmetics and plastic.
FUNGUSCHAIN has studied the benefits of mushroom molecules in nutrition, since their properties can help in the metabolic syndrome associated with obesity, among other issues. Also, the addition of these molecules to certain food such as bread, sausages or instant mushroom sauce have shown very positive effects on health, being especially interesting for vulnerable consumers such as the elderly, as these molecules become a vitamin B12 supplement or source of vegan protein.
Thanks to the commitment and synergy between its partners, FUNGUSCHAIN has also developed different types of bioplastic products. Many formulations were developed combining bioplastic materials and mushroom residue (in addition to additives and bio lubricants). Therefore, a wide range of biodegradable products such as compostable garbage bags, shopping bags or films for agricultural crops have been manufactured.
Regarding the cosmetic industry, the project has provided new sustainable products thanks to the incorporation of chitosan in the formulations. Thus, three types of products with 100% natural origin were developed as a replacement for chemical antioxidants: emulsions, essential oils and bars of soap.
FUNGUSCHAIN is a perfect example of how circular bioeconomy becomes a reality. The valorization of waste represents a step forward towards the recovery and extraction of valuable materials that will be used in key sectors of the European economy.
European consortium
The FUNGUSCHAIN consortium has brought together 16 partners from ten different European countries, including research centers and leading companies in biobased economies. BioDetection Systems B. V. (Netherlands) has been responsible for coordinating the project. The rest of companies and entities involved in it are Aitiip Technology Center (Spain), the University of Alicante (Spain), NOVAMONT (Italy), KTH Royal Institute of Technology (Sweden), Saponia (Croatia), OWS (Belgium), Biotrend (Portugal), Condensia (Spain), Biozoon (Germany), ECPN (Italy), MiPlast (Croatia), Tecnaro (Germany) , Monaghan Mushrooms (Ireland), Total Corbion (Netherlands) and Neem Biotech (UK).