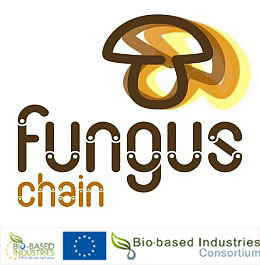 A consortium of European research centres develops plastic bags, soap and food from mushroom waste
The European project FUNGUSCHAIN has manufactured new products such as biodegradable bags, essential oils or vitamin enriched food for the elderly from fungus residues.
This initiative has been financed by the European Commission and brings together 15 European partners who make possible circular bioeconomy and introduce a new concept about biorefinery that will entail a breakthrough in the current industry.
Zaragoza, April 14th 2021. - Have you ever learned that about 25% of every kilogram of mushroom is discarded as waste? For instance, the stem is the part of the mushroom that is usually not sold. However, it has molecules with very high protein value that can be used to create new plastic, cosmetic and food bio-products. Thus, the European project FUNGUSCHAIN has successfully developed compostable shopping or garbage bags, films for crops, soaps, essential oils and multiproteic foods for the elderly from mushroom waste.
The FUNGUSCHAIN Research Project has been funded by the European Commission and brings together 16 partners from ten European countries. They have worked on these super properties of mushrooms for four years and a half and the project has just finished successfully achieving its goals. Not only has the project developed new products, but it has also enabled an innovative circular economy approach that will entail a breakthrough in the current industrial system.